Welcome to Raggedy Moon Books
Our newest fiction: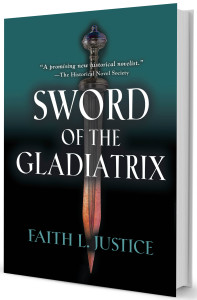 "Readers will care very much about both these women—fans of Roman historical fiction should not miss this title."— Historical Novel Society
"I was gripped by Faith's great writing style – and hardly put it down until I reached the end…The two heroines of Sword of the Gladiatrix are memorable and original, and Faith has achieved the difficult challenge of making me care even about the minor characters."  —The Writing Desk
"An amazing and totally original and unique novel. Such a strong range of female characters are depicted, courageous, brave, cunning, deadly, deceitful… totally believable women."—Inked Rainbow Reads
"An enthralling read…I plan to keep it on my book shelf and re-read in the future."—Book Nerd
Two women. Two swords. One victor

.
 An action-packed tale that exposes the brutal underside of Imperial Rome, Sword of the Gladiatrix brings to life unforgettable characters and exotic settings. From the far edges of the Empire, two women come to battle on the hot sands of the arena in Nero's Rome: Afra, scout and beast master to the Queen of Kush; and Cinnia, warrior-bard and companion to Queen Boudica of the British Iceni. Enslaved, forced to fight for their lives and the Romans' pleasure; they seek to replace lost friendship, love, and family in each other's arms. But the Roman arena offers only two futures: the Gate of Life for the victors or the Gate of Death for the losers..
---
Our newest non-fiction:

Twitter Who Volume 3: The Third Doctor
 Stranded on Earth for a few years with a faulty TARDIS?
Hope you've got a good book!
Sometimes life requires you to make a new home for yourself. For the Third Doctor, that new home is UNIT. there are new companions to befriend, new allies to make, a Brigadier to frustrate, and a Master to tussle with. Never a dull moment here on Earth. Coming back for thirds, Hannah J. Rothman settles in for five years as she Tweets and commentates her way through the complete Jon Pertwee era of Doctor Who. Hop in for a ride in Bessie and get your sonics ready.
Browse our other titles and get to know

our authors.
Thanks for stopping by!