Welcome to Raggedy Moon Books
Newest Fiction: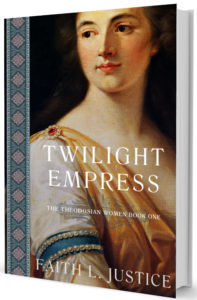 Twilight Empress: A Novel of Imperial Rome
One woman battles the coming Dark Ages.
Twilight Empress tells the little-known story of a remarkable woman: Placidia, sister to one of the last Roman Emperors. Roman Empress and Gothic Queen, Placidia does the unthinkable: she rules the failing Western Roman Empire. A life of ambition, power, and intrigue she doesn't seek, but can't refuse; her actions shape the face of Western Europe for centuries. A woman as well as an empress, Placidia suffers love, loss, and betrayal. Can her intelligence, tenacity, and ambition help her survive and triumph over scheming generals, rebellious children, and Attila the Hun?
Author:  Faith L. Justice
Print ISBN:  978-06922460511
Length:  392 pp
Price:  $13.99 (Print-discounts vary) $3.99 (ebook)
Available at:
Amazon.com (worldwide) US, UK, Canada, Australia
Barnes&Noble (print and ebook)
CreateSpace (print only)
iBooks (ebook only)
Kobo (ebook only)
Smashwords (ebook only)
---
Our newest non-fiction:

Twitter Who Volume 3: The Third Doctor
 Stranded on Earth for a few years with a faulty TARDIS?
Hope you've got a good book!
Sometimes life requires you to make a new home for yourself. For the Third Doctor, that new home is UNIT. there are new companions to befriend, new allies to make, a Brigadier to frustrate, and a Master to tussle with. Never a dull moment here on Earth. Coming back for thirds, Hannah J. Rothman settles in for five years as she Tweets and commentates her way through the complete Jon Pertwee era of Doctor Who. Hop in for a ride in Bessie and get your sonics ready.
Browse our other titles and get to know

our authors.
Thanks for stopping by!