News Release:
Raggedy Moon Books presents:
Sword of the Gladiatrix
by  Faith L. Justice
Now available in print and eBook at all online outlets or order from your local bookstore.
Two women. Two swords. One victor.
"…fans of Roman historical fiction should not miss this title."— Historical Novel Society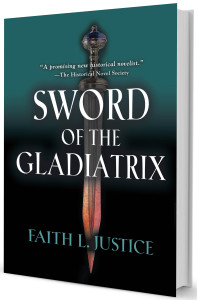 An action-packed tale that exposes the brutal underside of Imperial Rome, Sword of the Gladiatrix brings to life unforgettable characters and exotic settings. From the far edges of the Empire, two women come to battle on the hot sands of the arena in Nero's Rome: Afra, scout and beast master to the Queen of Kush; and Cinnia, warrior-bard and companion to Queen Boudica of the British Iceni. Enslaved, forced to fight for their lives and the Romans' pleasure; they seek to replace lost friendship, love, and family in each other's arms. But the Roman arena offers only two futures: the Gate of Life for the victors or the Gate of Death for the losers.
Author:  Faith L. Justice
Library of Congress Control Number: 2020906188
Hardback ISBN: 978-0917053214
Trade paper ISBN:  978-0692386491
Length:  260 pp
Price:  $20 (HB) $11.99 (trade-discounts vary) $3.99 (eBook)