News Release:
Raggedy Moon Books presents:
Twitter Who Volume 3: The Third Doctor
by  Hannah J. Rothman
Now available in print and eBook at all online outlets or order from your local bookstore.
Stranded on Earth with a faulty TARDIS? Hope you have a good book!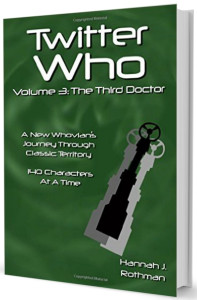 Sometimes life requires you to make a new home for yourself. For the Third Doctor, that new home is UNIT. there are new companions to befriend, new allies to make, a Brigadier to frustrate, and a Master to tussle with. Never a dull moment here on Earth. Hannah J. Rothman settles in for five years as she Tweets and commentates her way through the complete Jon Pertwee era. Hop in for a ride in Bessie and get your sonics ready.
Author:  Hannah J. Rothman
Print ISBN:  978-0616001783
Length:  234 pp
Price:  $9.99 (Print-discounts vary) $2.99 (eBook)