News Release:
Raggedy Moon Books presents:
Twilight Empress: A Novel of Imperial Rome
by  Faith L. Justice
Now available in print and eBook at all online outlets or order from your local bookstore.
 "Overall, a breathtaking and immense journey through one inspirational and impactful woman's life in Rome."   —100 Pages a Day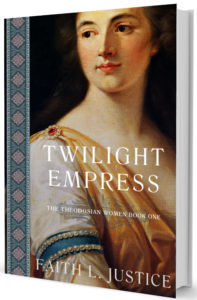 Twilight Empress tells the little-known story of a remarkable woman: Placidia, sister to one of the last Roman Emperors. Roman Empress and Gothic Queen, Placidia does the unthinkable: she rules the failing Western Roman Empire. A life of ambition, power, and intrigue she doesn't seek, but can't refuse; her actions shape the face of Western Europe for centuries. A passionate woman as well as an empress, Placidia suffers love, loss, and betrayal. Can her intelligence, tenacity, and ambition help her survive and triumph over scheming generals, rebellious children, and Attila the Hun?
Author:  Faith L. Justice
Print ISBN:  978-06922460511
Length:  392 pp
Price:  $13.99 (Print-discounts vary) $3.99 (eBook)