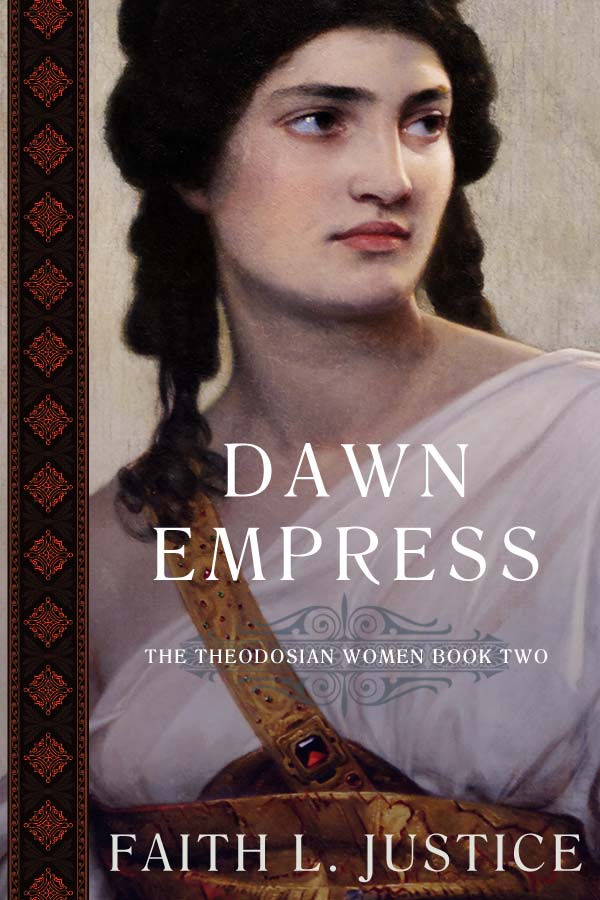 Kirkus Reviews
"A gripping tale…Justice chronicles, with a skillful blend of historical rigor and dramatic action, the extraordinary efforts of Pulcheria to outmaneuver her adversaries…The prose is razor sharp, and the tale is as impressively unsentimental as it is genuinely moving."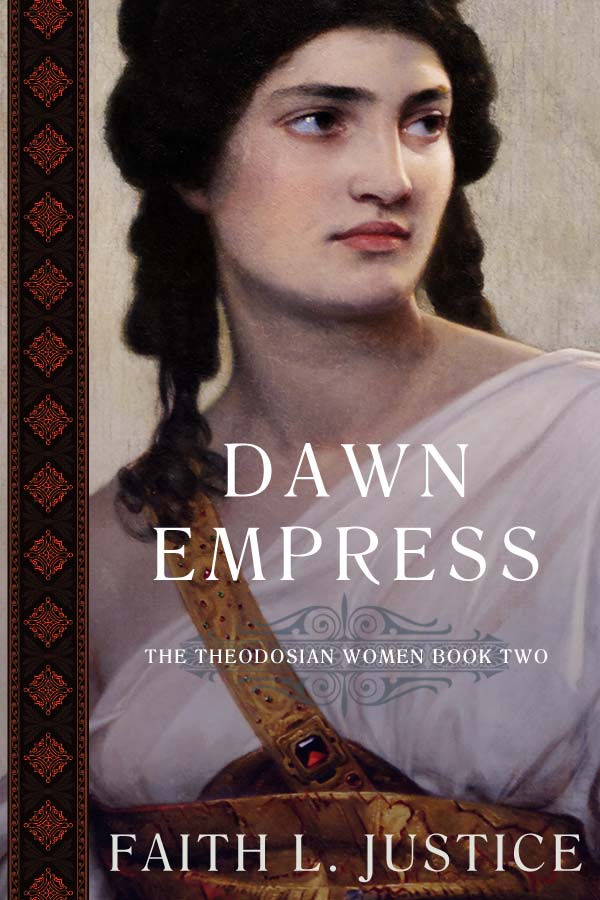 Readers' Favorite
"I loved the cinematic writing and focused scenes…fast-paced and engaging, one of those novels that will keep fans of historical novels reading through the night."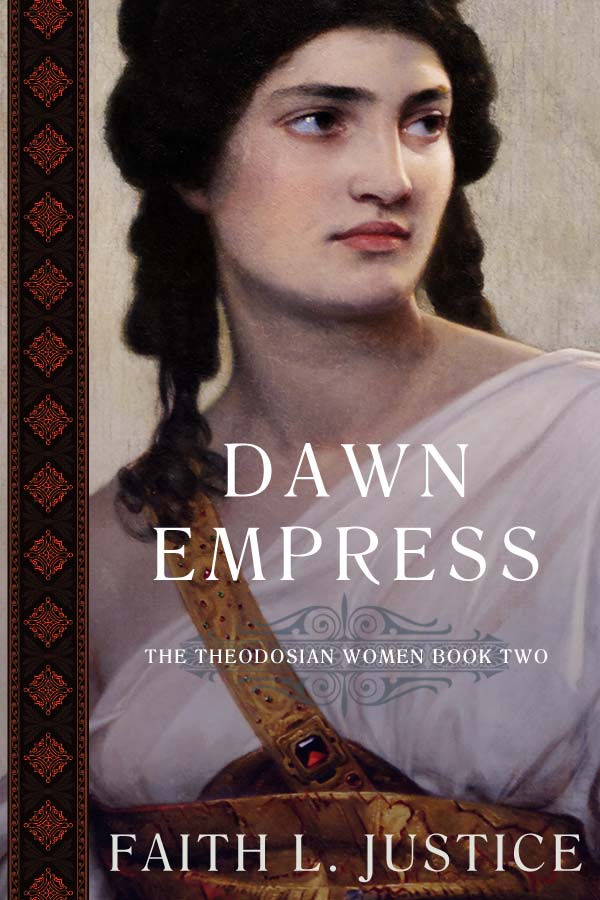 Reading the Past
"Justice gathers up the known facts about Pulcheria and offers a well-rounded, human portrait of this accomplished woman…a recommended read for historical fiction old-timers who enjoyed the works of Gillian Bradshaw, and for anyone seeking out fresh subjects in historical fiction about world rulers or influential women."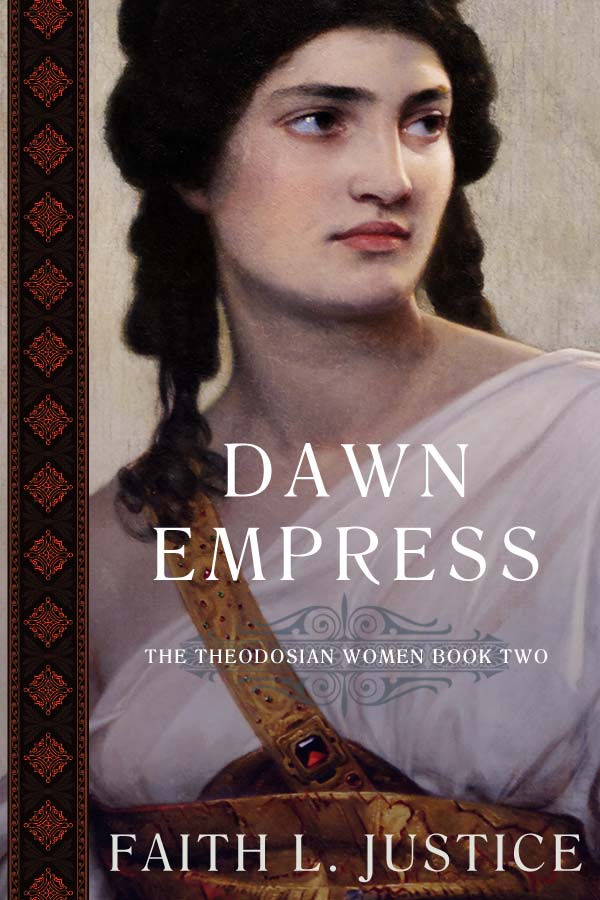 As Rome reels under barbarian assaults, a young girl must step up.
After the Emperor's unexpected death, ambitious men eye the Eastern Roman throne occupied by seven-year-old Theodosius II. His older sister Pulcheria faces a stark choice: she must find allies and take control of the Eastern court or doom the imperial children to a life of obscurity—or worse! Beloved by the people and respected by the Church, Pulcheria forges her own path to power. Can her piety and steely will protect her brother from military assassins, heretic bishops, scheming eunuchs and—most insidious of all—a beautiful, intelligent bride? Or will she lose all in the trying?
Dawn Empress tells Pulcheria's little-known and remarkable story. Her accomplishments rival those of Elizabeth I and Catherine the Great as she sets the stage for the dawn of the Byzantine Empire.
Title: Dawn Empress: A Novel of Imperial Rome (The Theodosian Women Book Two)
Author: Faith L. Justice
Publisher: Raggedy Moon Books (May 2020)
Library of Congress Control Number: 2016931966
Hardback (354 pages, $22.00) ISBN: 978-0917053238
Trade paperback – Amazon (354 pages, $12.99) ISBN: 978-0917053269
Trade paperback – IngramSpark (354 pages, $12.99 with 40% retail discount) ISBN: 978-0917053146
eBook (epub $4.99) ISBN: 978-0917053177
eBook (Kindle $4.99) ASIN: B089J6R3YZ

Audiobook (coming soon) ISBN: 978-0917053252

Readers' Favorite Five-Stars
Reviews:
Kirkus Reviews (May 24, 2020)
"A gripping tale of a royal sister's fraught political machinations…Justice chronicles, with a skillful blend of historical rigor and dramatic action, the extraordinary efforts of Pulcheria to outmaneuver her adversaries and defend Theodosius. The prose is razor sharp, and the tale is as impressively unsentimental as it is genuinely moving."
Reading the Past (July 7, 2020)
"History abounds with accomplished women whose stories have undeservedly been forgotten. Aelia Pulcheria Augusta is among them…Faith L. Justice gathers up the known facts about Pulcheria and offers a well-rounded, human portrait of this accomplished woman…It's a recommended read for historical fiction old-timers who enjoyed the works of Gillian Bradshaw, and for anyone seeking out fresh subjects in historical fiction about world rulers or influential women.
Readers' Favorite (June 6, 2020)
"The historical setting is gorgeously written… The prose is beautiful, sprinkled with vivid descriptions. Faith L. Justice brings to life historical characters and a history that I have not read about much. There is intrigue, stabbings-in-the-back, and betrayal, but at the heart of the story is a powerful woman who stands tall, determined to protect her younger brother from scheming enemies. I loved the cinematic writing and focused scenes. The plot points are strong and I enjoyed how the author captured the crisis that feeds the storyline. Dawn Empress: A Novel of Imperial Rome is fast-paced and engaging, one of those novels that will keep fans of historical novels reading through the night."