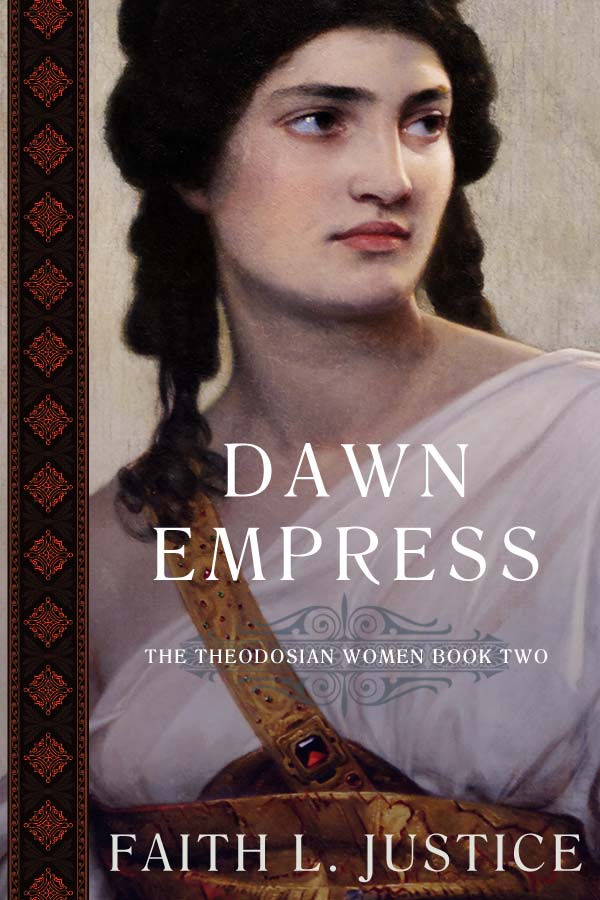 Kirkus Reviews
"A gripping tale…Justice chronicles, with a skillful blend of historical rigor and dramatic action, the extraordinary efforts of Pulcheria to outmaneuver her adversaries…The prose is razor sharp, and the tale is as impressively unsentimental as it is genuinely moving."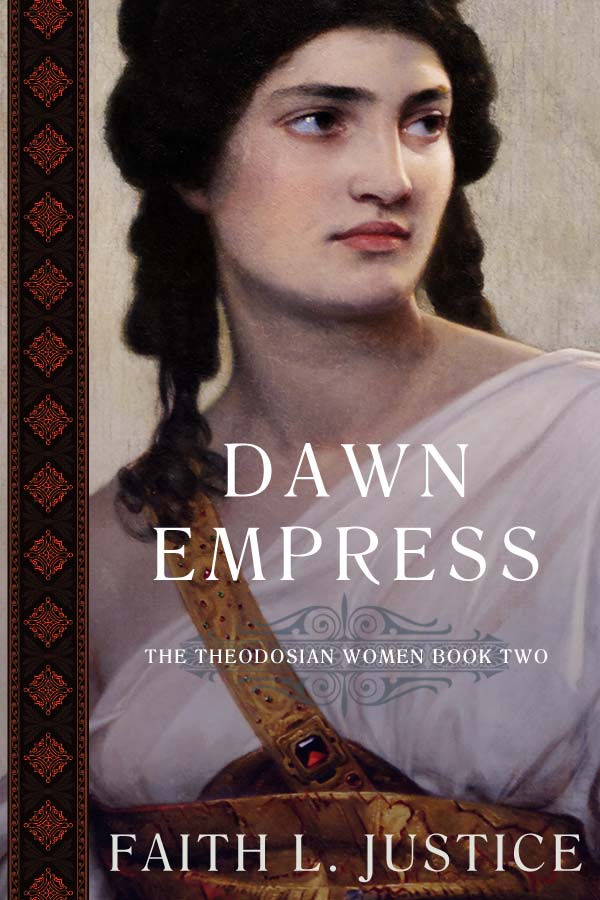 Historical Novel Reviews: Editors' Choice
"Justice has penned another outstanding novel…Highly recommended."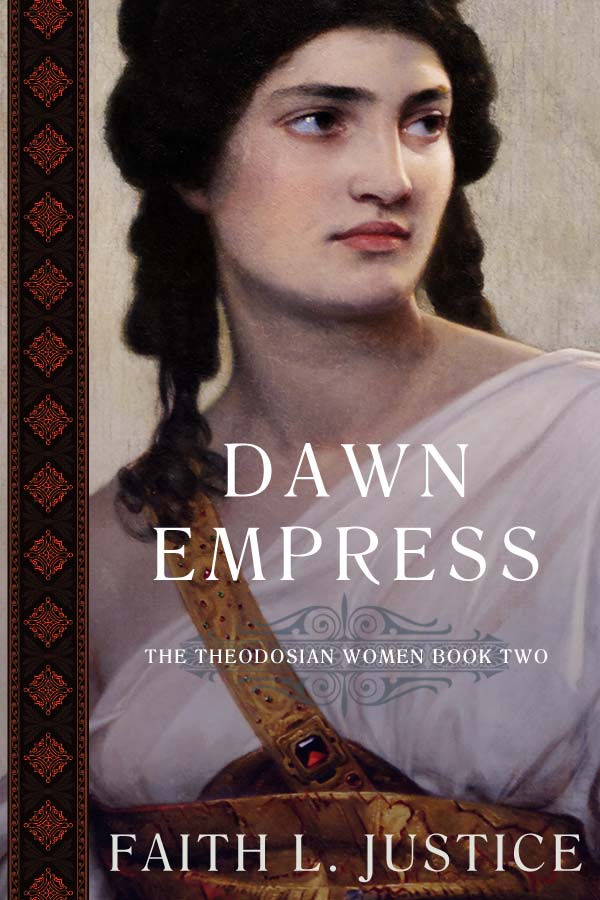 Midwest Book Reviews
"A deftly written and impressively entertaining historical novel in which the author pays due attention to detail while ably crafting memorable characters and riveting plot twists… especially recommended for community library Historical Fiction collections."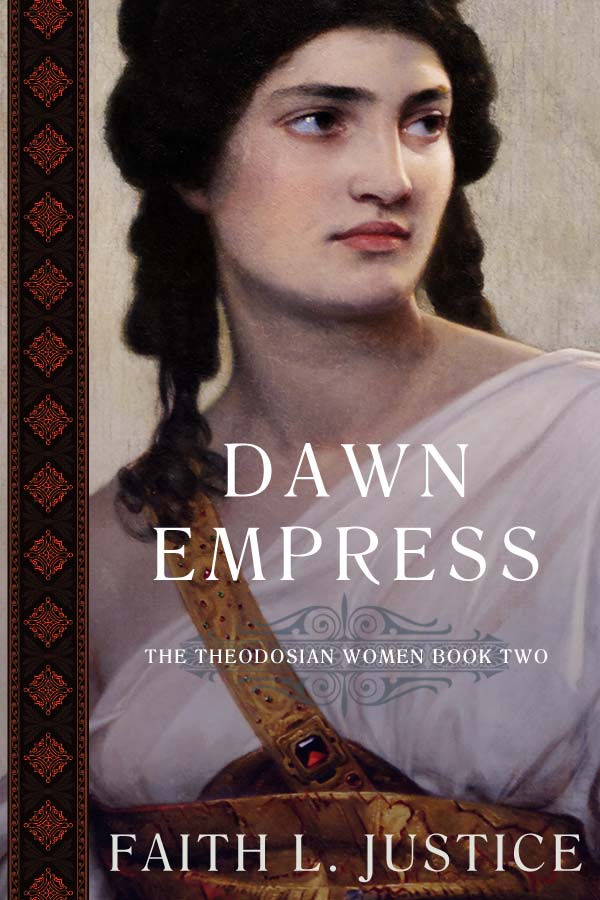 Readers' Favorite
"I loved the cinematic writing and focused scenes…fast-paced and engaging, one of those novels that will keep fans of historical novels reading through the night."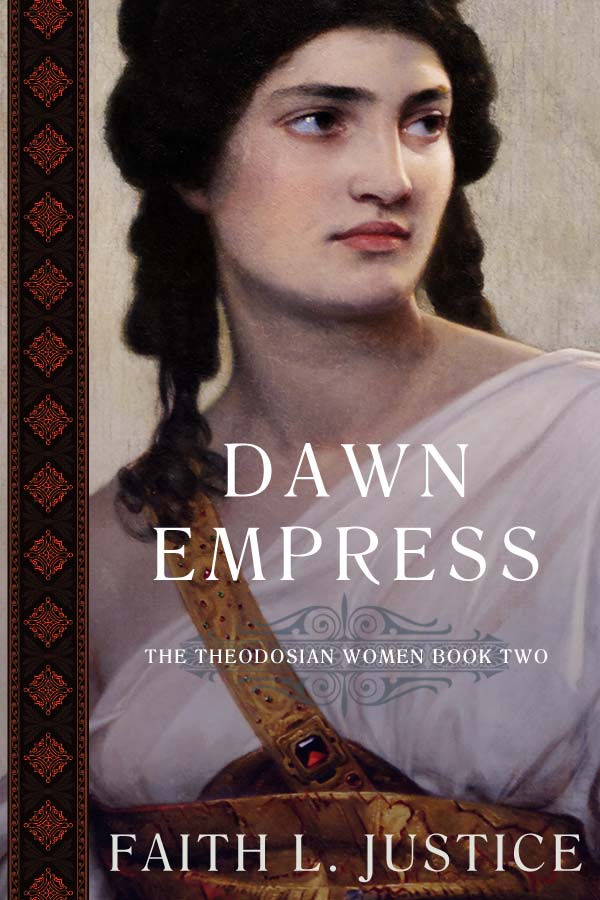 Reading the Past
"Justice gathers up the known facts about Pulcheria and offers a well-rounded, human portrait of this accomplished woman…a recommended read for historical fiction old-timers who enjoyed the works of Gillian Bradshaw, and for anyone seeking out fresh subjects in historical fiction about world rulers or influential women."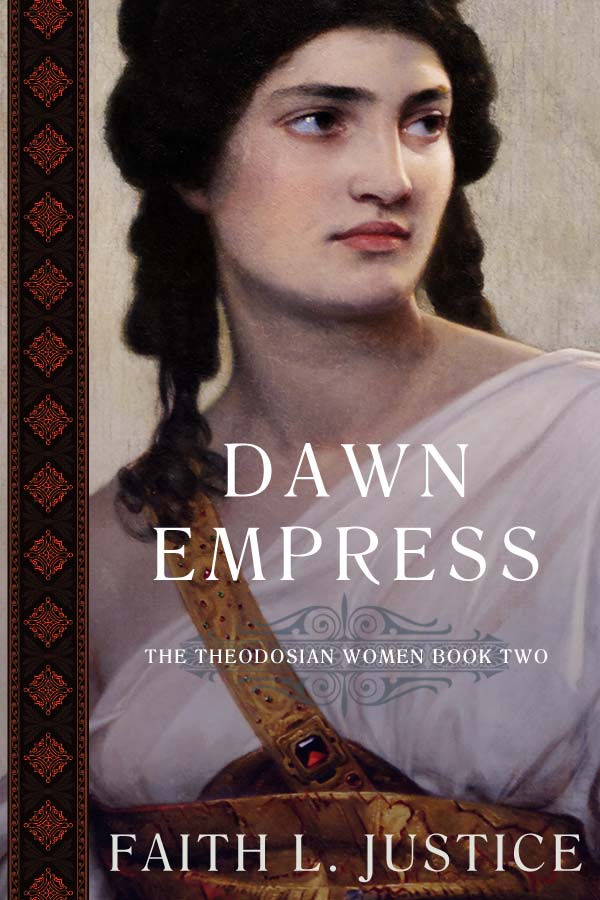 As Rome reels under barbarian assaults, a young girl must step up.
After the Emperor's unexpected death, ambitious men eye the Eastern Roman throne occupied by seven-year-old Theodosius II. His older sister Pulcheria faces a stark choice: she must find allies and take control of the Eastern court or doom the imperial children to a life of obscurity—or worse! Beloved by the people and respected by the Church, Pulcheria forges her own path to power. Can her piety and steely will protect her brother from military assassins, heretic bishops, scheming eunuchs and—most insidious of all—a beautiful, intelligent bride? Or will she lose all in the trying?
Dawn Empress tells Pulcheria's little-known and remarkable story. Her accomplishments rival those of Elizabeth I and Catherine the Great as she sets the stage for the dawn of the Byzantine Empire.
Title: Dawn Empress: A Novel of Imperial Rome (The Theodosian Women Book Two)
Author: Faith L. Justice
Publisher: Raggedy Moon Books (May 2020)
Library of Congress Control Number: 2016931966
Hardback (354 pages, $22.00) ISBN: 978-0917053238
Trade paperback – Amazon (354 pages, $12.99) ISBN: 978-0917053269
Trade paperback – IngramSpark (354 pages, $12.99 with 40% retail discount) ISBN: 978-0917053146
eBook (epub $4.99) ISBN: 978-0917053177
eBook (Kindle $4.99) ASIN: B089J6R3YZ

Audiobook ISBN: 978-0917053252 (12 hr. 41 min)
Audiobook Narrator: Kathleen Li
Hardback, trade paperback, or eBooks available at these vendors or ask at your local library.
Audio books (12 hr 41 min) available at these vendors (more listed in "Available" above) or ask at your local library. Audio supplemental PDF (genealogy chart, glossary, etc.) available here.

Sale prices vary from Apple and Nook Audiobooks at $9.99 to Audible for $24.95. Prices listed here are not guarenteed as the vendors can change the price at will.
Reviews:
Kirkus Reviews (May 24, 2020)
"A gripping tale of a royal sister's fraught political machinations…Justice chronicles, with a skillful blend of historical rigor and dramatic action, the extraordinary efforts of Pulcheria to outmaneuver her adversaries and defend Theodosius. The prose is razor sharp, and the tale is as impressively unsentimental as it is genuinely moving."
Historical Novel Reviews; Editors' Choice (November 2020)
"Justice has penned another outstanding novel, the second in her Theodosian Women series…The role of the Christian church and its relationship with other religions in shaping the empire is narrated in a fluid, non-textbook style. This novel is a useful addition into the insights and workings of the Eastern Roman Empire. Highly recommended."
Midwest Book Reviews (October 2020)
"A deftly written and impressively entertaining historical novel in which the author pays due attention to detail while ably crafting memorable characters and riveting plot twists and turns. "Dawn Empress" is the second title in author Faith Justice's remarkable 'Theodosian Women' trilogy…especially recommended for community library Historical Fiction collections."
Readers' Favorite (June 6, 2020)
"The historical setting is gorgeously written… The prose is beautiful, sprinkled with vivid descriptions. Faith L. Justice brings to life historical characters and a history that I have not read about much. There is intrigue, stabbings-in-the-back, and betrayal, but at the heart of the story is a powerful woman who stands tall, determined to protect her younger brother from scheming enemies. I loved the cinematic writing and focused scenes. The plot points are strong and I enjoyed how the author captured the crisis that feeds the storyline. Dawn Empress: A Novel of Imperial Rome is fast-paced and engaging, one of those novels that will keep fans of historical novels reading through the night."
 History from a Woman's Perspective (March 20, 2022)
"This novel is about family drama, religion, and political intrigue that will captivate you from the first page until the last. I found all the characters to be realistic and complex…The author did an excellent job in making the Byzantine court come alive… Dawn Empress rescues an obscure empress from history. I can't wait to read the last book in Theodosian Women focusing on Aelia Eudocia!
Reading the Past (July 7, 2020)
"History abounds with accomplished women whose stories have undeservedly been forgotten. Aelia Pulcheria Augusta is among them…Faith L. Justice gathers up the known facts about Pulcheria and offers a well-rounded, human portrait of this accomplished woman…It's a recommended read for historical fiction old-timers who enjoyed the works of Gillian Bradshaw, and for anyone seeking out fresh subjects in historical fiction about world rulers or influential women."
The Book Bandit's Library (May 7, 2021)
"This novel was superb from beginning to end. The writing was rich and expressive. The characters came across as incredibly real in the telling, and the historical detailing was exquisite. There is no doubt in my mind that Faith L. Justice is a master bard. And this book is one in a million."
Historical Fiction Blog (May 7, 2021)
"This book is full of palace intrigue and religious conflict…[where] the characters try to do their best in a unforgiving world."
I Got Lost in a Book (May 6, 2021)
"This novel is impossible to put down, the story so engrossing it felt like a crime to stop reading."
Eclectic Ramblings of Author Heather Osborne (May 6, 2021)
"The author certainly knows her Roman history."
Svetlana's Reads and Views (April 13, 2021)
"I am truly sorry that it took me a long time to read and review this hidden treasure, because truly, that's what it is…I would highly recommend Dawn Empress."
Story Circle Network – by, for, and about women (August 30, 2020)
"Kudos to Justice for a well-written novel about a complex topic. For anyone who enjoys history…Dawn Empress is an engaging addition to the "books to read" list…[Her] beautiful, poignant description of the new Emperor on his wedding night was both tender and touching. I don't think I've ever read a better bedroom scene."
Bookworlder (July 20, 2020)
"This is a layered story of a complicated woman…While relatively little is known about Pulcheria, the author skillfully takes what is known and blends history and fiction to form a compellingly readable narrative of a woman who sought to maintain her place and her faith within the Eastern Roman Empire."
Ya It's Lit (July 22, 2020)
"I JUMPED at the chance to read this. And it did not disappoint!…While we don't know much about this time period, Justice does an excellent job of taking what we do know and weaving it into the story."
100 Pages a Day (July 28, 2020)
"The writing pulled me into 5th Century Rome with well researched descriptions of the dress, food, palace and churches.  I enjoyed reading about the many true events that the book incorporates… Overall, another amazing story of a compelling, influential woman in history."