News Release:
Raggedy Moon Books presents #3 in their collections of short stories:
The Reluctant Groom and Other Historical Stories
by  Faith L. Justice
Now available in print, eBook, and audio at all online outlets or order from your local bookstore.
 Enjoy historical fiction? Like short stories?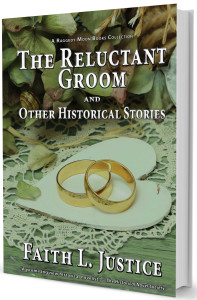 Then dive into this collection of historical shorts by an award-winning author. You'll find stories of heroism, love, and adventure such as a panicked bachelor faced with an arranged marriage, a Viking shield maiden exploring a new world, and a young boy torn between love for his ailing grandmother and duty to an Empress. Whether set in imperial Rome, colonial America, or the ancient African Kingdom of Kush, these stories bring to life men and women struggling to survive and thrive—the eternal human condition.
Author: Faith L. Justice
Print ISBN: 978-06925444401
Length: 122 pp
Price: $6.99 (print-discounts vary), $2.99 (eBook), $5.95 (audio discounts vary)