News Release:
Raggedy Moon Books presents the second book in their collections of short stories:
Slow Death and Other Dark Tales
by  Faith L. Justice
Now available in print, eBook, and audio book at all online outlets or order from your local bookstore.
Looking for sparkly vampires or heroic werewolves?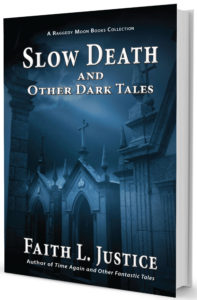 Sorry,  humans—and the occasional ghost—intent on murder, revenge, and righting wrongs take center stage in these tales. Meet a grieving mother witnessing a death-row execution, a wronged bureaucrat condemned to a future drug rehabilitation center, an Alzheimer's patient trapped in his own deteriorating mind, a ghost on a mission of justice, and more in this collection of the author's best dark fiction.
Author: Faith L. Justice
Print ISBN: 978-1601458131
Length: 70 pp; 1.5 hours
Price: $5.99 Print (discounts vary), $2.99 eBook, $5.95 Audio book (discounts vary)