News Release:
Raggedy Moon Books presents the first book in its collection of short stories:
Time Again and Other Fantastic Stories
by  Faith L. Justice
Now available in print, eBook, and audio book at all online outlets or order from your local bookstore.
What would you do with an extra hour of life?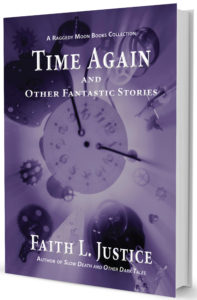 Kiss your sweetheart? Eat ice cream? Graffiti your workplace? Find out how one man uses his bonus hour in the award-winning story "Time Again." Then check out how a young woman deals with a transforming experience, business consultant Alice overhauls Wonderland, a fierce mother takes on the devil who wants to marry her daughter, and more in this collection of five of the authors best fantasy stories.
Author: Faith L. Justice
Print ISBN: 978-1601458131
Length: 90 pp
Price: $5.99 (Print-discounts vary), $2.99 (eBook). $5.95 (Audio Book-discounts vary)