News Release:
Raggedy Moon Books presents:
Adventurous Girls #1
by  Faith L. Justice
Now available in print, eBook, and audio book at all online outlets or order from your local bookstore or library.
Most noble-born girls of Tokoyo's age learn to sing, paint, and write poetry. 
Not Tokoyo.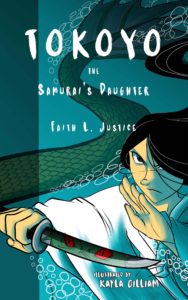 She's an adventurous girl! Tokoyo is the daughter of a samurai in fourteenth century Japan. Her father trains her in the martial arts. When he is away, she escapes to the sea where she works with the Ama—a society of women and girls who dive in the deep waters for food and treasure. But disaster strikes her family. Can Tokoyo save her father using the lessons she learned and the skills she mastered to overcome corrupt officials, her own doubts, and a nasty sea demon?
Author:  Faith L. Justice
Illustrator: Kayla Gilliam
Hardback ISBN: 978-0917053207
Trade paperback ISBN:  978-0692677087
Library of Congress Control Number: 2017930973
Length:  122 pp
Price:  $6.99 (Print-discounts vary), $2.99 (eBook), $5.95 (Audio Books, discounts vary)