News Release:
Raggedy Moon Books presents:
by  Faith L. Justice
Now available in print and eBook at all online outlets or order from your local bookstore.
 "…the book is an addictive read, as Justice chooses her key moments wisely, weaving a decades-long narrative about Placidia's layered life as she rises to eventual leadership."   —Kirkus Reviews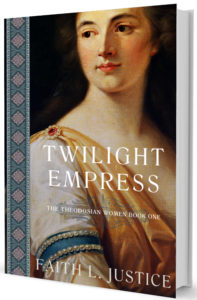 Twilight Empress tells the little-known story of a remarkable woman: Placidia, sister to one of the last Roman Emperors. Roman Empress and Gothic Queen, Placidia does the unthinkable: she rules the failing Western Roman Empire. A life of ambition, power, and intrigue she doesn't seek, but can't refuse; her actions shape the face of Western Europe for centuries. A passionate woman as well as an empress, Placidia suffers love, loss, and betrayal. Can her intelligence, tenacity, and ambition help her survive and triumph over scheming generals, rebellious children, and Attila the Hun?
Author:  Faith L. Justice
Library of Congress Control Number: 2016931966
Hardback ISBN: 978-0917053221
Trade Paperback ISBN:  978-06922460511
Length:  350 pp
Price: $22 (HB) $12.99 (Print-discounts vary) $4.99 (eBook)